PC7's CEO, Primož Cigoj, shares his thoughts in one of the best Slovenian business magazines
12:00, 15.02.2023
Blog
/ PC7's CEO, Primož Cigoj, shares his thoughts in one of the best Slovenian business magazines
PC7 team is proud to share thoughts of our CEO, Primož Cigoj, published in one of the best businessmen's magazines in Slovenia. Slovenian Business Club is known for quality content when it comes to business topics from various industries, publishing extraordinary individuals and companies that are the most successful in their field.
Dr. Primož Cigoj - SBC (Slovenian Business Club; No. 1; March 2023)
Full interview (ENG):
With the development of ERP systems, we are successfully increasing our sales figures in our own fast-growing online markets (e.g. Pawww.eu), with which we are already present in ten European countries. Through the PC7 Academy programme, we offer mentoring and support to all those who want to progress on their path to success.
Where did you get the idea for your business?
I was a technology enthusiast since I was a child. I remember my father buying me my first computer when I was 10 years old. I was more interested in the operating system and programs than in games. In high school, I was introduced to IRC (which allows interactive text communication or chat between a multitude of users), where I spent most of my time living with virtual friends. At that time, IRC was a 'virtual battlefield' where we attacked each other and honed our digital competences in the areas of information security, server management, website layout and so on. To maintain an IRC nickname, you needed a permanent connection to the Internet, which was rare in those days. So I started selling "shells", which allowed users to install a program that preserved the IRC alias and recorded the history of the conversation. With the knowledge I had acquired, I continued my career in the company by offering IT solutions to various companies. The first two major clients were the Association of Accountants and the Slovenian Institute of Auditing. We are still working with the institute today, so we have quite a long history together.
What vision and goals does your company have for 2030?
My ambition is to generate enough capital to build research campuses in Europe, where we would have unlimited opportunities for research and support for young people who have a desire and an immense drive to innovate.
Why did you become a member of the SBC - Slovenian Business Club?
The SBC has a pool of the most successful companies that I am honoured to work with. At the same time, we can learn a lot from each business story. I also support the Club's vision and support for socially disadvantaged families.
Would you dare to describe an entrepreneurial mistake from which you have learnt the most?
In the beginning, we relied on a trusting partnership and expected to be paid after the service had been provided. In the past, two companies have commissioned us to develop apps for which we have not been paid. That's when we decided to change the way we do business by introducing a 50% prepayment.
Which achievement in the company are you most proud of?
I am most proud of the trust of our major business partners, both in Slovenia and abroad, and of the fact that we have finally succeeded in breaking into the foreign market in the field of digitalisation. In the past year, we have also ventured into the field of online sales, where we have expanded across 10 European countries in less than two months.
What has been the most difficult challenge in your entrepreneurial career?
How to gain the trust of larger companies when closing new deals at the start of a business journey. When you come out as a one-man band, nobody takes you seriously, even though you may have good solutions.
What is the best piece of advice you have received in your career that you have applied to your own company?
You have to take the long view; something that doesn't make sense to you at the moment can bring you a lot in the future. So, building a stable business, not wanting to make a quick buck.
What CSR-related activities does your company carry out?
In 2022, we donated to several different organisations. In 2023, we plan to set up the PC7 Foundation, where we will become even more active in this area. In the past year, we have also been quite active in the field of hackathons, where we have passed on knowledge and mentored young innovators.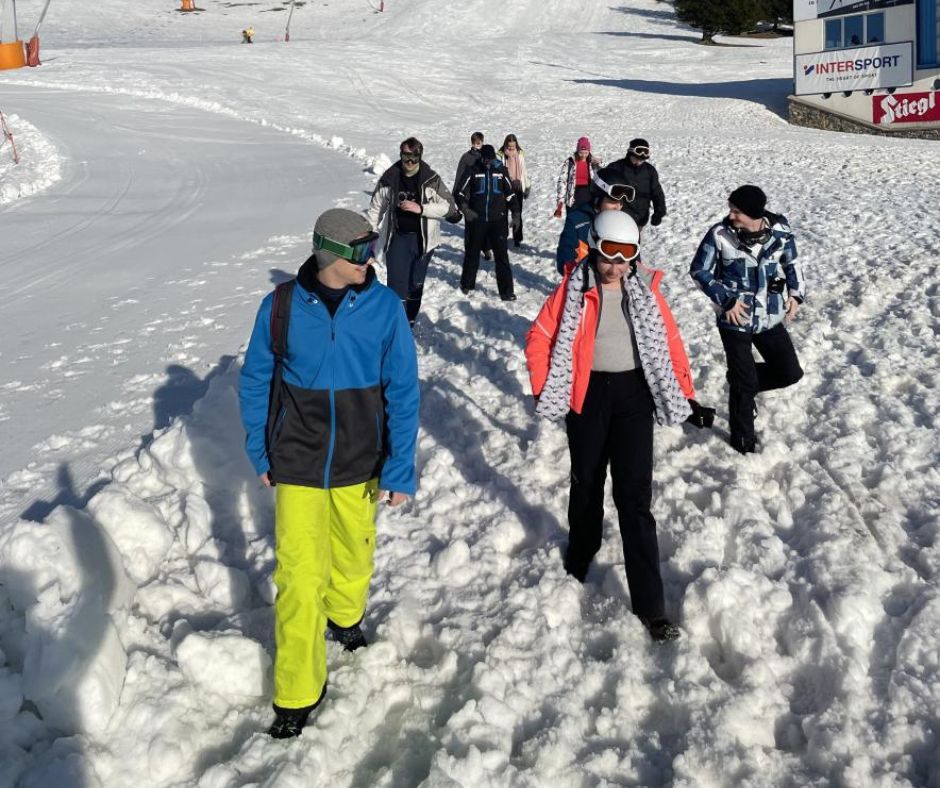 PC7 Family Goes to Krvavec Mountain for their Annual Traditional Sledding
Read full article